Smart PV – store solar power conveniently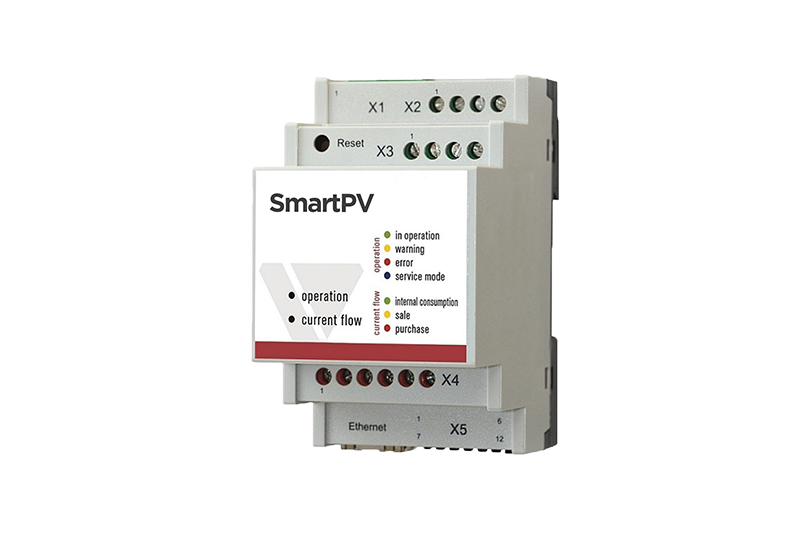 Smart PV is energy management for energy-efficient integration of power production in your heating system.
The innovative technology of Smart PV enables storage of surplus solar power in the heating system. The superfluous energy is stored in the water by a heater rod with a maximum output of 2 kW. Smart PV measures all electrical loads in the building and records power drawn from the grid, power fed to the grid and on-site consumption. Data is evaluated via the heating controller or very clearly via online access to the heating system.
Utilisation of surplus electricity with Smart PV offers the following benefits:
Reduction in the payback period for your PV system (or other power generator)
Identification and shutting down of power guzzlers
Greater efficiency thanks to higher level of on-site consumption
Online weather data processing – the boiler waits for the solar yield, thereby reducing the heating costs
Variable utilisation of surplus solar power from 0–100%
Operation and visualisation from your heating system's Touch controller
Can be integrated into existing and new systems
The benefits of Smart PV at a glance
Contact your ÖkoFEN Partner
The technical refinements of Smart PV
Smart PV consists of two modules: Smart PV Meter and the Smart PV Power2Heat module. Smart PV Meter independently identifies the surplus energy from the photovoltaic system (or another power source) and utilises this in conjunction with the Power2Heat module (heater rod with output controller).
The main function of Smart PV is to collect the current surplus energy and use it to activate a continuously selectable consumer with precisely this amount of energy. The outputs of the Pelletronic Touch heating controller are used for this purpose.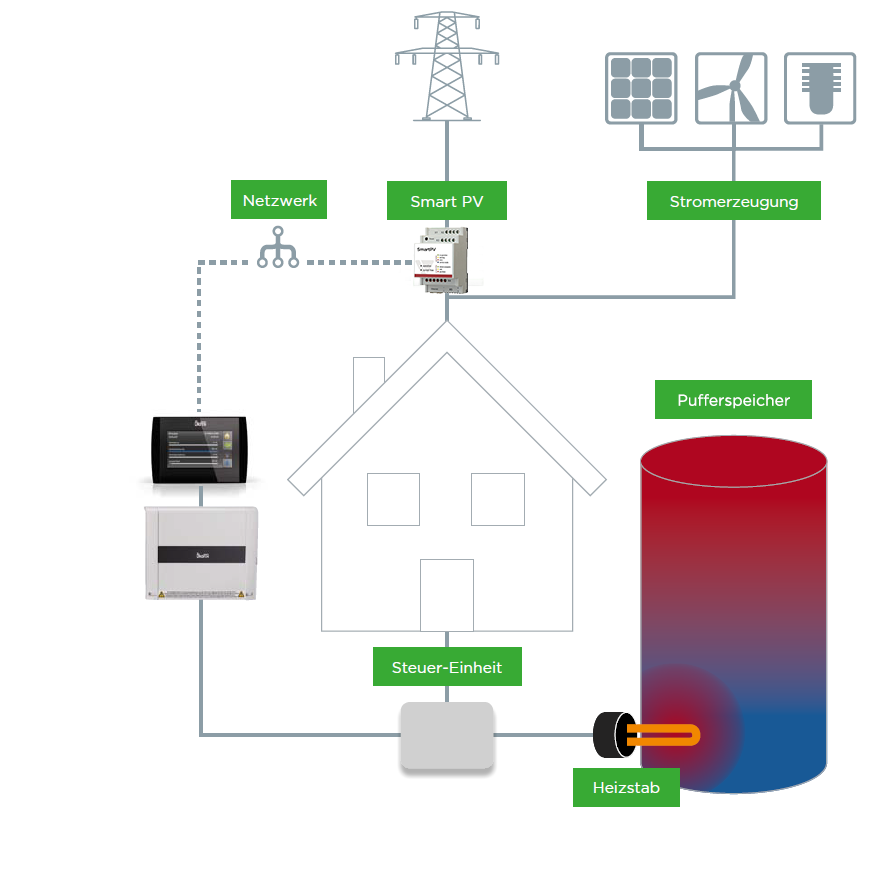 Network connection
The network links Smart PV Meter with the Touch programming unit. Smart PV Meter must be connected by cable, while the Touch programming unit can be connected via WiFi.
Smart PV Meter
Smart PV Meter measures the amount of power the building draws from or feeds into the grid and passes this information to the Pelletronic Touch energy manager.
Electricity generation
In most cases, the power source is a PV system, but other technologies, such as a wind turbine or a Stirling engine, can also be connected to the system.
Buffer cylinder
The surplus energy from electricity generation is stored in the buffer cylinder.
Touch controller
The programming unit of the heating system acts as the energy technology controller. Visualisation also takes place on the touch-sensitive screen.
Pelletronic Touch energy manager
The heating controller acts as the energy manager. It processes the data from Smart PV Meter and controls the heater rod output.
Control unit
This component controls the heater rod output from 0 to 100 percent of the maximum power of 2 kW.
Heater rod
The heater rod conducts the surplus electrical energy into the buffer cylinder with a maximum output of 2 kW.
Technical data
Smart PV
Rated current
 
A
12
Rated voltage
 
V
230
Voltage range
 
V
185–265
Rated frequency
 
Hz
50
Continuous overload (transformer)
 
 
Max. voltage 265 V, current 260 A
Peak overload
 
 
Voltage 1000 V 65 µs
Analogue outputs
 
 
0–10 V DC
Connections
 
 
L1/L2/L3/N/PE 3xL 1xN 1xPE 1.5 mm2 pluggable analogue transformer outputs 1xRJ45 6-pole
interface
 
10 Mbit/s Ethernet LAN-interface
Dimensions
L/W/H
mm
160x110x62, width 9TE